National Licentiate Examination
 National Licentiate Examination is also known as or called as NATIONAL EXIT EXAM OR COMMON EXIT EXAM.
The quality of medical education differs broadly across medical colleges is not in discussion. Besides, the trust deficiency between doctors and patients is on the increasing growth. A properly composed national examination for medical licenses could benefit to recover public faith in the capability of medical doctors by guaranteeing uniform quality standards across India.
WHAT IS  National Licentiate Examination?
National Licentiate Examination is the exam which will be given by the students graduating from medical college or university, for granting a licence to practise medicine and for registration in the register of medical practitioners. the students from government college be it from private college or students doing mbbs from abroad no one will be spared. all of the students will have to give NLE for registration and licence.
In Chapter4 National examination the bill proposed the following points:
There shall be National Licentiate Examination for the experts certifying from the Institutions for a specific system of Indian Medicine
 The assigned authorization shall assure the conduct of uniform licentiate examination in an above-mentioned manner for each Indian Systems of Medicine.
Provided that the NLE shall shift operational within 3 years from the date on which this Act comes into force, on a date to be proclaimed by the Central Government.
The NLE shall also work as a National Eligibility-cum-Entrance Test for entrance into post-graduate studies in respective Indian systems medical universities/ institutions under the view of National Commission for Indian Systems of Medicine.
There shall be general counselling for postgraduate courses to be conducted by the assigned authorization for admission to all the institutions.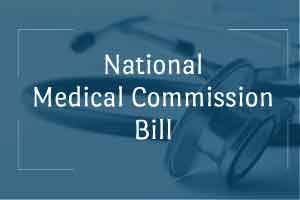 RECENT NEWS
according to the recent news:
National licentiate Exam to be Joined With last year MBBS Exam by Rajya Sabha Committee Decision
Here is the Hindustan times News
More detail on National licentiate Exam watch our video:
Career growth is assisting applicant for admissions in Abroad for MBBS for countries such as China, Philippines, and Georgia. Career growth is one stop shop which aids in assistance such as University selection, Genuine Counselling, Application, visa and after visa services.
 For Further information visit our  website  or contact us